Description
We remove certificate and other details of sold product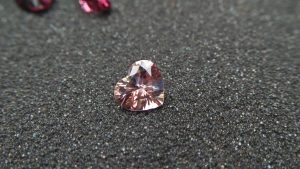 Tourmaline is a crystalline boron silicate mineral compounded with elements such as aluminium, iron, magnesium, sodium, lithium, or potassium.
The gemstone comes in a wide variety of colors. Usually, iron-rich tourmalines are black to bluish-black to deep brown, while magnesium-rich varieties are brown to yellow. Some forms of tourmaline are dichroic, in that they appear to change color when viewed from different directions. Also, lithium-rich tourmalines can be any color: green, red, blue, yellow, pink etc. Watermelon tourmaline is green at one end and pink at the other, or green on the outside and pink inside. Bi-colored and multicolored crystals are relatively common, reflecting variations of fluid chemistry during crystallisation. Colorless tourmaline is very rare.
Tourmaline pleochroism is typically moderate to Strong. It is Cyclosilicate mineral with 7-7.5 hardness according to the more hardness scale and 3.06 (+.20 -.06) specific gravity. It is a Double refractive, uniaxial (-) mineral with the Trigonal crystal system.
Tourmaline can be seen fluorescent inert to very weak red to violet in the long and short wave in pink Stones. Tourmaline can be found in India, Brazil, Tanzania, Nigeria, Kenya, Madagascar, Mozambique, Namibia, Afghanistan, Sri Lanka, USA, Ethiopia.

Tourmaline Healing Properties
Tourmaline balances the right-left sides of the brain. It Helps treat paranoia, overcomes dyslexia. Also, It Improves circulation and supports the liver and kidneys.
Tourmaline helps to eliminate toxic metals in the body and Reduces lactic acids and free fatty acids. It is a stone of purification, cleansing the emotional body of negative thoughts, anxieties, anger, and feelings of unworthiness.