Description
Colour : Red
Shape : Oval
Cut : Cabochon
Weight : 5.45 ct
Dimension : 13 x 9.1 x 6 mm
Treatment : Unheated/Natural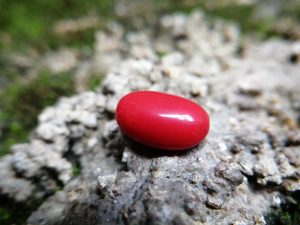 Natural Red Coral
Coral is the hard mineralised skeleton of marine animals, composed primarily of calcium carbonate.
Precious coral has relative density of 3.86 and hardness 3.5 on the Mohs scale.
Coral jewellery has been found in ancient Egyptian and prehistoric European burials and continues to be made to the present day. It was especially popular during the Victorian age. Coral is a 35th Anniversary gemstone.
Zodiac – Taurus, Pisces
Planet – Mars
Chakras – Base Chakra
The Red Coral is the Gemstone of Mars as per Indian Vedic Astrology. Mars is the planet of energy, vitality, blood circulation and ambition and the Red Coral is worn to boost the energy of Mars in the horoscope also said to absorb negativity, support friendships and groups/communities. It is said to invoke passion, enthusiasm and optimism in the wearer and encourage romantic love.
Red coral Aids in the release of impurities from the muscular system.  Red Coral treats disorders of the kidneys, bladder and parathyroid.