Description
Black Tourmaline, malachite, lapis lazuli, rose quartz, tiger eye, labradorite bracelet 
Metal : Silver
Stone : Black Tourmaline, malachite, lapis lazuli, rose quartz, tiger eye, labradorite
Type : Bracelet
Weight : 18.34 g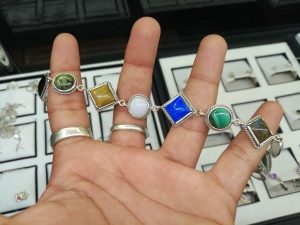 Black Tourmaline, malachite, lapis lazuli, rose quartz, tiger eye, labradorite bracelet 
Tiger's eye is a chatoyant gemstone that is usually a metamorphic rock with a golden to red-brown colour and a silky lustre.
A stone of protection, Tiger Eye may also bring good luck to the wearer. It has the power to focus the mind, promoting mental clarity, assisting us to resolve problems objectively and unclouded by emotions
Lapis lazuli is a deep blue metamorphic rock used as a semi-precious stone that has been prized since antiquity for its intense color.
A stone of protection that may be worn to guard against psychic attacks, Lapis Lazuli quickly releases stress, bringing deep peace.
Black Tourmaline is a powerful grounding stone, electrical in nature, providing a connection between Earth and the human spirit. Its supportive energy aligns the energy centers of the body and channels healing light throughout the system.
Malachite is a copper carbonate hydroxide mineral, with the formula Cu2CO3(OH)2. Malachite is a stone of balance, abundance, manifestation and intention.  Malachite absorbs energy and draws emotions to the surface.  It clears and activates all Chakras, and is especially helpful in the stimulation of the Heart and Throat Chakras.
Labradorite ((Ca, Na)(Al, Si)4O8), a feldsparmineral, is an intermediate to calcic member of the plagioclase series.
Labradorite is a useful companion through change, imparting strength and perseverance. It balances and protects the aura, raises consciousness and grounds spiritual energies.
Rose Quartz is the crystal of the heart and the Heart Chakra, teaching the true essence of love, and purifying and opening the heart at all levels. Rose Quartz aids in relieving tension and stress, palpitations