Description
Amethyst, Garnet and Citrine Standard 925 Silver Earring 
Metal : Silver
Stone : Amethyst, Garnet, Citrine
Type : Earing
Weight : 2 g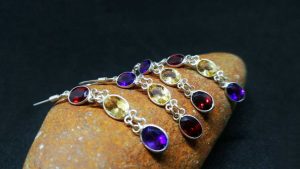 Amethyst, Garnet and Citrine Standard 925 Silver Earring
Amethyst is a violet variety of quartz. It's a birthstone of month February.
The name comes from the Koine Greek ἀμέθυστος amethystos from ἀ- a-, "not" and μεθύσκω methysko / μεθύω methyo, "intoxicate", a reference to the belief that the stone protected its owner from drunkenness.
Amethyst has healing powers to help with physical ailments, emotional issues, and in Energy Healing and Chakra balancing.
Amethyst boosts the production of hormones, and stimulates the sympathetic nervous system and endocrine glands to optimum performance. It supports oxygenation in the blood, and aids in treatments of the digestive tract, heart, stomach, and skin.
The therapeutic uses of Amethyst have a long and well-documented history. Amethyst crystal therapies are primarily associated with physical ailments of the nervous system, the curing of nightmares and insomnia, and balancing the crown chakra.
Citrine is a variety of quartz whose color ranges from a pale yellow to brown due to ferric impurities.
Citrine's radiant yellow and gold energy activates, opens, and energizes the Solar Plexus and Navel Chakras, directing personal power, creativity, and intelligent decisiveness to enhance the physical body.
Citrine is useful in meditation to open the doors to inner thought. It allows the flow of the Universal Life Force and promotes an easy transition into the meditative state. It activates the thinking processes, and brings images forward from the deep mind.
It cleanses the chakras and opens the intuition. Citrine energises every level of life.  Citrine attracts wealth, prosperity and success.  It imparts joy, wonder, delight and enthusiasm.  Raises self-esteem and self-confidence.  Stimulates the brain, strengthening the intellect.  Citrine promotes motivation, activates creativity and encourages self-expression.  Enhances concentration and revitalises the mind.  It releases negative traits, depression, fears and phobias.  Emotionally balancing.
Garnets are a group of silicate minerals that have been used since the Bronze Age as gemstones and abrasives.
The Garnet crystal meaning is rooted in ancient history and comes from the Latin word 'granatum', which means pomegranate, a reference to its intense red color that resembles the glistening, deep red seeds of the fruit.
All species of garnets possess similar physical properties and crystal forms, but differ in chemical composition.
Pyrope Mg3Al2Si3O12, Almandine Fe3Al2Si3O12, Spessartine Mn3Al2Si3O12, Andradite Ca3Fe2Si3O12, Grossular Ca3Al2Si3O12, Uvarovite Ca3Cr2Si3O12
Healing Properties
Garnet was more than just a fashion statement. Garnet stimulates from both the Base and Crown chakras to provide for free flow of movement via the spinal column and the inner pathway of light, distributing the appropriate amount of energy to each portion of the body.
Garnet regenerates the body, stimulating metabolism. It treats spinal and cellular disorders, purifies the blood, heart and lungs, and regenerates DNA
Garnet cleanses and reenergizes the chakras. It revitalizes, purifies and balances energy, bringing serenity or passion as appropriate. It is thought to heal emotional problems. Placed under a pillow, Garnet is reputed to alleviate bad dreams. Medicine men used it to cure mental depression.
Garnet is thought to have medicinal abilities to reduce body toxins. At times stones were placed in wounds to help heal by encouraging the clotting of the blood