Description
Metal : Silver
Type : Pendant
Weight : 3 g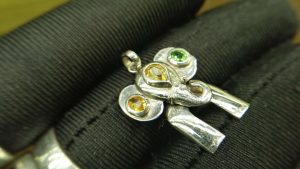 Citrine and Peridot Elephant Pendant 
" Peridot Reduces stress, anger and guilt"
Peridot is gem-quality olivine and a silicate mineral with the formula of (Mg, Fe)₂SiO₄. As peridot is a magnesium-rich variety of olivine, the formula approaches Mg₂SiO₄.
Peridot is one of the few gemstones that occur in only one color: an olive-green. The intensity and tint of the green, however, depends on the percentage of iron in the crystal structure, so the color of individual peridot gems can vary from yellow, to olive, to brownish-green.
Healing Properties 👇
Peridot assists in balancing the endocrine system, especially the adrenal glands, which govern the health of the physical body, and acts as a tonic to liven the entire system making it healthier, stronger and more radiant. Wear Peridot set in gold to bring peaceful sleep and ideal for discharging emotional issues that affect the physical body.
Peridot carries a green energy that activates the Heart Chakra, located near the center of the breastbone. Place it over the Solar Plexus to relax and release nervous tension, known as "butterflies," as well as to alleviate fear and guilt, anxiety or impatience.
Citrine is a variety of quartz whose color ranges from a pale yellow to brown due to ferric impurities.
Citrine's radiant yellow and gold energy activates, opens, and energizes the Solar Plexus and Navel Chakras, directing personal power, creativity, and intelligent decisiveness to enhance the physical body.
Citrine is useful in meditation to open the doors to inner thought. It allows the flow of the Universal Life Force and promotes an easy transition into the meditative state. It activates the thinking processes, and brings images forward from the deep mind.
It cleanses the chakras and opens the intuition. Citrine energises every level of life.  Citrine attracts wealth, prosperity and success.  It imparts joy, wonder, delight and enthusiasm.  Raises self-esteem and self-confidence.  Stimulates the brain, strengthening the intellect.  Citrine promotes motivation, activates creativity and encourages self-expression.  Enhances concentration and revitalises the mind.  It releases negative traits, depression, fears and phobias.  Emotionally balancing.
Silver is a chemical element with symbol Ag and atomic number 47.
Silver is the metal of emotions, of the psychic mind, and of loving as well as healing. It is used to bring patience and perseverance to the wearer