Description
Dimension :14mm x 9.5mm x 3.3mm
Weight : 2.20 Cts
Treatment : Unheated/ Natural
Mineral : Ratnapura, Sri Lanka
Shape : Drop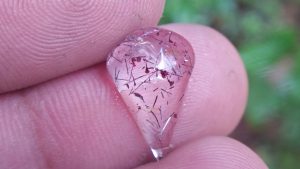 Rutilated quartz is a variety of quartz which contains acicular (needle-like) inclusions of rutile. These inclusions can be golden, silver, copper-red or deep black. Rutile Quartz is highly sought after because of inclusions. Quartz is a mineral composed of silicon and oxygen atoms in a continuous framework of SiO4 silicon-oxygen tetrahedra, with each oxygen being shared between two tetrahedra, giving an overall chemical formula of SiO2. Rutile is a Latin word means reddish color. Rutile Quartz is found in Madagascar, Brazil, Mexico, U.S, India, Sri Lanka, Belgium, France, Pakistan, Russia, Switzerland, UK, Australia.
Healing Properties of Rutilated Quartz
Rutilated Quartz is an illuminator for the soul, promoting spiritual growth. Its also said to enhance one's understanding of difficult situations, thus facilitating timely and appropriate solutions. It's a very strong healing stone. Rutilated Quartz is helpful in the treatment of respiratory tract issues and bronchitis stimulates and balances the thyroid, and repels parasites.