Description
| | |
| --- | --- |
| Colour : | greenish brown to orange  |
| Weight: | 0.89 Ct |
| Dimension: | 5.50 x 4.90 x 3.70 mm |
| Shape: | Oval Cabochon  |
| Clarity: | SI (high grade) |
| Variety: | Natural alexandrite cats eye  |
| Species: | Natural chrysoberyl  |
| Origin: | Ratnapura, Sri Lanka 🇱🇰 |
| Quality Grade: | Gem Quality  (commercial grade) |
| Treatment : | Natural/ Unheated  |
| Birthstone: | June  |
| Zodiac Sign: | Gemini ♊ |
| Destiny Number: | 7 |
| Shipping: | EMS (5-7 business days, free shipping) / FedEx (3-5 business days + additional shipping cost)  |
| Wearing Finger: |  Ring Finger |
| Planet: | Ketu |
| Certification: | CSL – Colored Stone Laboratory Certified ( Gemological Institute of America "GIA" Alumina Association Member ) |
---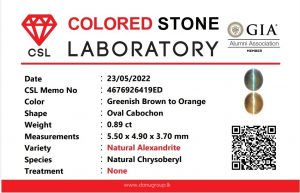 ---
WE TAKE IMAGES ON NATURAL BACKGROUND TO SEE THE REAL BEAUTY OF GEMSTONES AND GET AN IDEA ABOUT THE REALITY OF THE GEM IN THE ONLINE MARKET  
REGULAR IMAGES: Mobile Phone Photography Under Day Light. No Colour enhancement or any edits Only attached watermark.
---
All orders are shipped through the Sri Lankan National Gem and Jewelry Authority with insurance. We will provide you with a tracking number as soon as the order is shipped. Please message us if you have any additional questions. We are always ready to give you better customer service all the time
---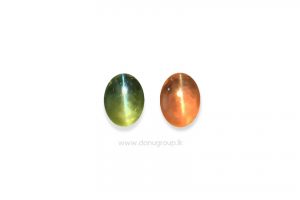 SRI LANKAN NATURAL ALEXANDRITE CAT'S EYE GEMSTONE FROM DANU GROUP COLLECTION
Alexandrite cat's eye is one of the rare gem variety in the mineral kingdom. Cats eye chrysoberyl is a highly sought-after gem variety of the Chrysoberyl mineral family. It's the most famous gem variety in the chrysoberyl family as chrysoberyl alexandrite. Because of its chatoyancy effect. Chatoyancy is the gemological name given to the curious optical effect in which a band of light is reflected in certain cabochon-cut gemstones, creating an appearance similar to light bouncing off a cat's eye. Because Combination of both properties (Alexandrite color changing effect and chatoyancy), it's a really rare and popular unique choice among gem lovers.
According to ancient astrological science, Chrysoberyl Cat's eye stone is regarded as the stone for the planet Ketu. A person can wear this stone to get good results from Ketu. It's a huge subject of gemstones healing properties. Also, as an alexandrite, it's the birthstone of June.
This oval cabochon with excellent transparent quality alexandrite cat's eye was found in the city of Gem Ratnapura, Sri Lanka. Danu group is humbly pleased to be able to provide such precious gems to the customer directly from the source. Explore more with Danu Group Gemstones Collections!
---